Bathrooms
Click & Drag Arrows for Before and After
A Remodeled Bathroom can add value to your everyday life within your Home. As a Design and Build firm, we have built and transformed over one-hundred Bathrooms for our Clients. Whether you would like to revitalize an existing Bathroom in your Home that is losing its functionality or would like to give your current Bathroom a new look with modern hardware, features, and amenities, we can use our Bathroom Remodeling expertise to bring your new Bathroom to life.
From layout and design to material selections and completion of your new Bathroom, we can use our expertise to help guide you through the Bathroom building process. We love our Clients and we try our best to give them every advantage throughout the building process. We do our best to Design and Build your dream Bathroom within your budget by using our knowledge of current material costs and our highly detailed estimating system that we developed in house. We want to give you the greatest value finished Bathroom for your budget.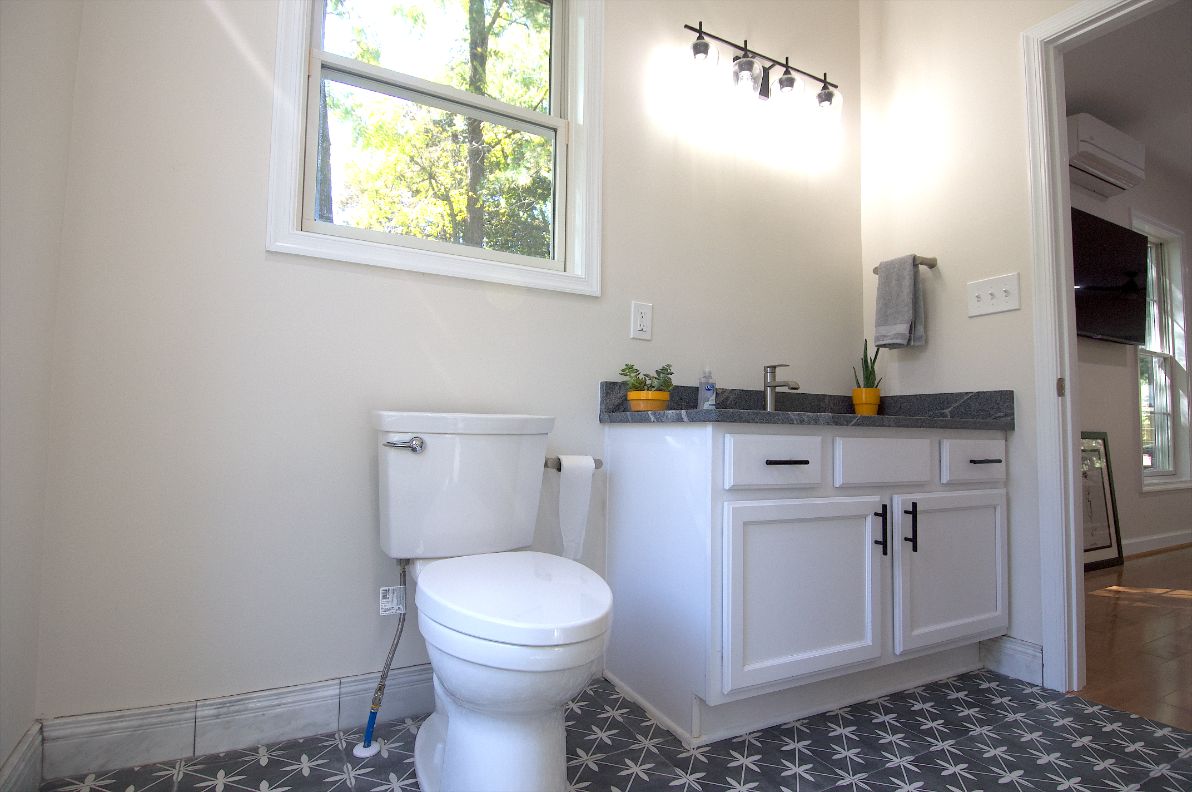 We have worked with many Clients to create Bathrooms that fit their everyday needs as well as their personal preferences. From highly complex projects to simple traditional Bathroom Designs, we have used every style and material over the more than 48 years that we have been building. From Freestanding, to Jacuzzi, to Walk-In Tubs, and more, we try to give our Clients a palette of options that will suite preference and needs as well as fit into the style of the Bathroom Design. Some of the Showers that we have installed in past projects include Custom Tile or Stone Shower, to Fiberglass, Sliding Glass Door, Seated, Rain Shower, Linear Drain, and more.
As a Cabinet and Vanity dealer for Legacy Cabinets, Lancaster Maid Cabinets, and River Run Cabinetry, we can give you many options for finely crafted top-tier Cabinets and Vanities in different styles, colors, and materials. To cover your Vanities, we offer any Countertop selection including Granite, Marble, Quartz, Corian, and more. In addition to offering many types of Countertop materials, we can offer our recommendations on how to select a Countertop that will fit your preference and needs.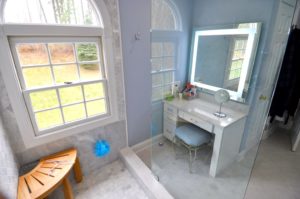 Many of our Clients have requested that we Design their Bathroom to feel like a spa. Lighting in a Bathroom can be a critical component in creating relaxation. We offer many lighting solutions including many selections for Vanity lighting, Mirror lighting, recessed lighting, Shower and Bathtub lighting, LED's, Sconces, and more. Exterior Windows and Skylights can also impact the how you feel within your Bathroom and we try to offer options that will create a personalized lighting Design tailored your Bathroom needs.
Tile and Stone selections for Bathroom floors, walls, and showers vary depending on size, shape, pattern, and color. Depending on what selection you wish to see in your new Bathroom, these materials may be sourced from all over the world. We can provide options for Ceramic Tiles, Terracotta, Marble, Granite, Linoleum, Wood, Slate, Porcelain, Mosaic, and more. If you prefer to install Hardwood flooring in your Bathroom, we can provide you with a selection of Hardwood options from our dealership for Somerset Hardwood Flooring, Lauzon Flooring, and Mannington Floors.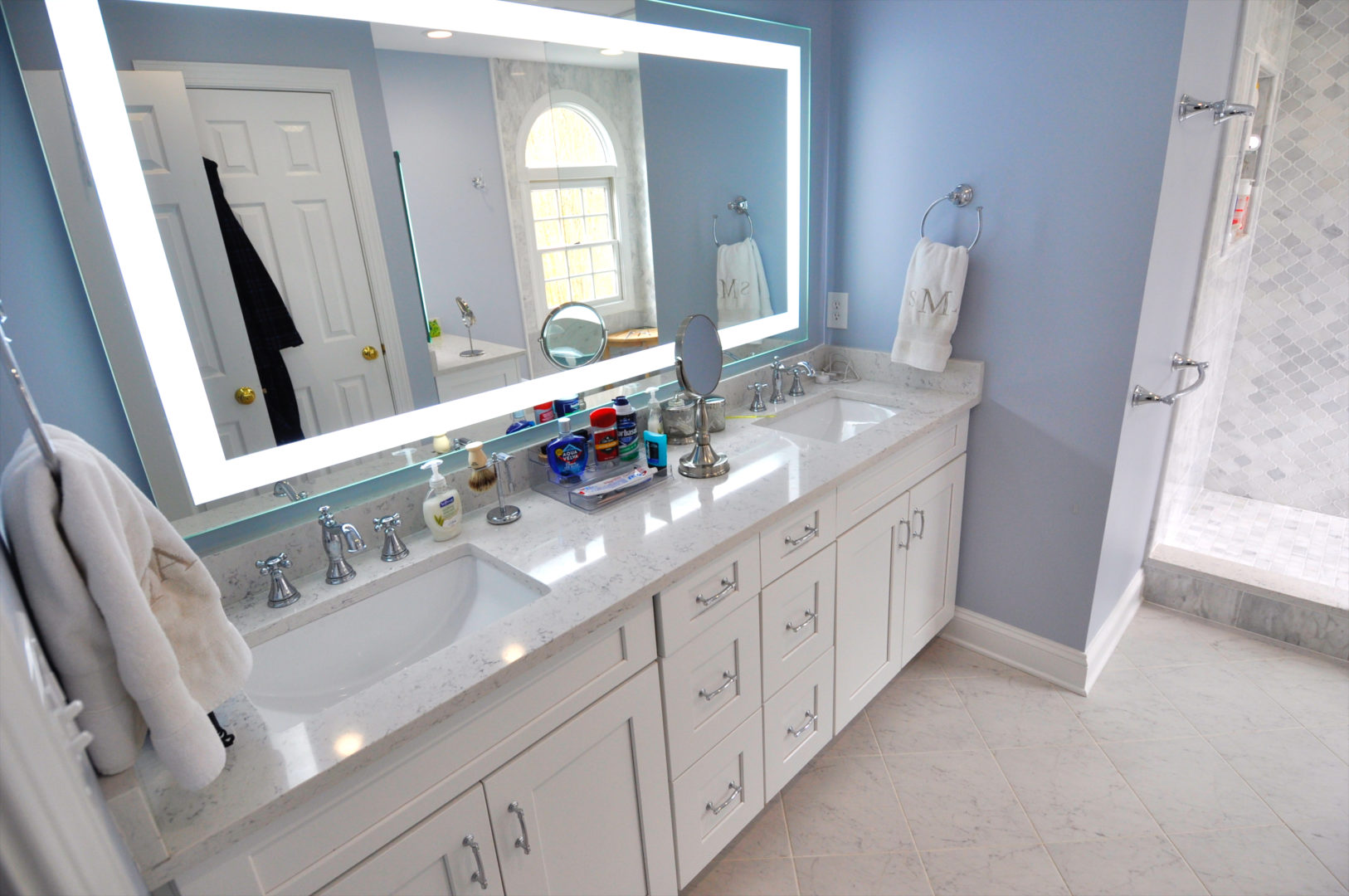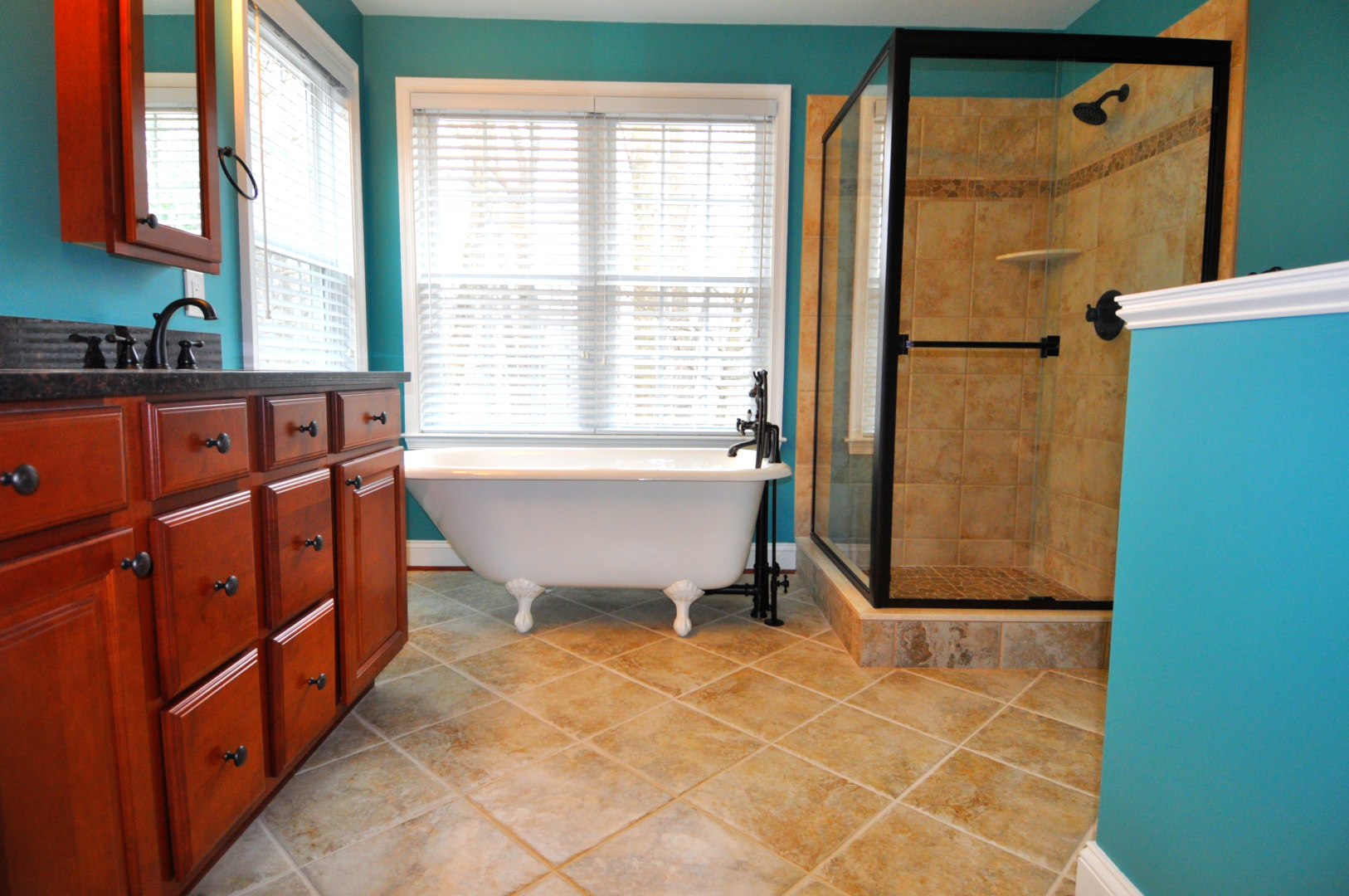 Our service areas for Bathroom Design Builds and Remodels include Ellicott City, Catonsville, Baltimore, Columbia, Clarksville, Owings Mills, Reisterstown, Pikesville, Finksburg, Annapolis, Severna Park, Bowie, Sykesville, Potomac, Bethesda, Silver Spring and the surrounding areas.
After over 48 years of home building and remodeling in Maryland, we continue to offer our services in Anne Arundel County, Baltimore City, Baltimore County, Carroll County, Howard County, and Montgomery County.